Modern Teacher Sample PL Modules
Modern Teacher's Modules blend a range of learning experiences, from online interactions and games to private self-assessments and in-person coaching sessions. Explore the resources and samples below for an inside look at modern Professional Learning. 
Discover what participants will learn and be able to do from Modern Teacher Professional Learning Modules.
Preview the classroom cultures of two different learners in this comic book style interaction.
Gain insight by reflecting on your own classroom culture before surveying your students with similar questions.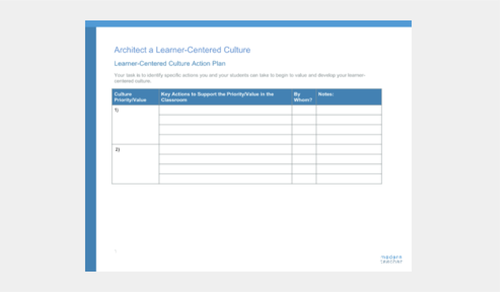 Apply your learning on classroom culture by creating an action plan to review with your coach.
Meet one of Modern Teacher's experienced professional learning coaches as she introduces a new module.
Play a quick game to quiz yourself on your recognition of classroom technology.
Explore a range of learning spaces in real classrooms with varying levels of technology access.
Self-assess your current comfort level as you're introduced to five areas of a successful Digital Learning Environment.
Compare the presentation of content in an LMS as the teacher enhances its visual appeal.
Note, the above resources provide a small sampling and are not meant to represent the full scope of content or functionality available in Modern Teacher's platform; they do not include common elements of Modern Teacher's modules, such as discussions and micro-certifications. Only Modern Teacher's platform can tie the content together for a complete modern learning experience.